I have always wanted a fluffy pink coat. Though being mistaken as a muppet while wearing a garment like this is a possibility, it's certainly better than the scene from "About a Boy," where Hugh Grant thinks a woman on a date is wearing a "yeti costume." Well, faux fur coats are all the rage this winter season, and though they provide minimal warmth, in bold, fun colors they are maximally chic. So, weeks before our trip to Paris, I bought this lovely yeti from Zara with the hopes of hitting the streets of my favorite city in style.
And what better day to wear a brand new, bright jacket than Christmas Eve? Free for the morning, Jon and I wandered through the Palais-Royal, window shopping at all the vintage shops with 1950's Dior dresses, stores displaying medals from every French war, and various spaces that looked like the dust-covered time capsule of Mrs. Havisham's French cousin. Meanwhile, many Parisians were buzzing about, doing their final shopping before the holiday, grabbing last minute gifts, hors-d'oeuvres, and wine to keep the festivities going well into the next day.
Though it was incredibly dreary and cold, the gray, spitting clouds didn't stop me from grabbing a coffee at my favorite place: Kitsune Café. What's essentially a Mecca for every latte lover in the area, we all make the pilgrimage to the skinny shop with delightful desserts to get our coffee craving (for more on Kitsune check out this post).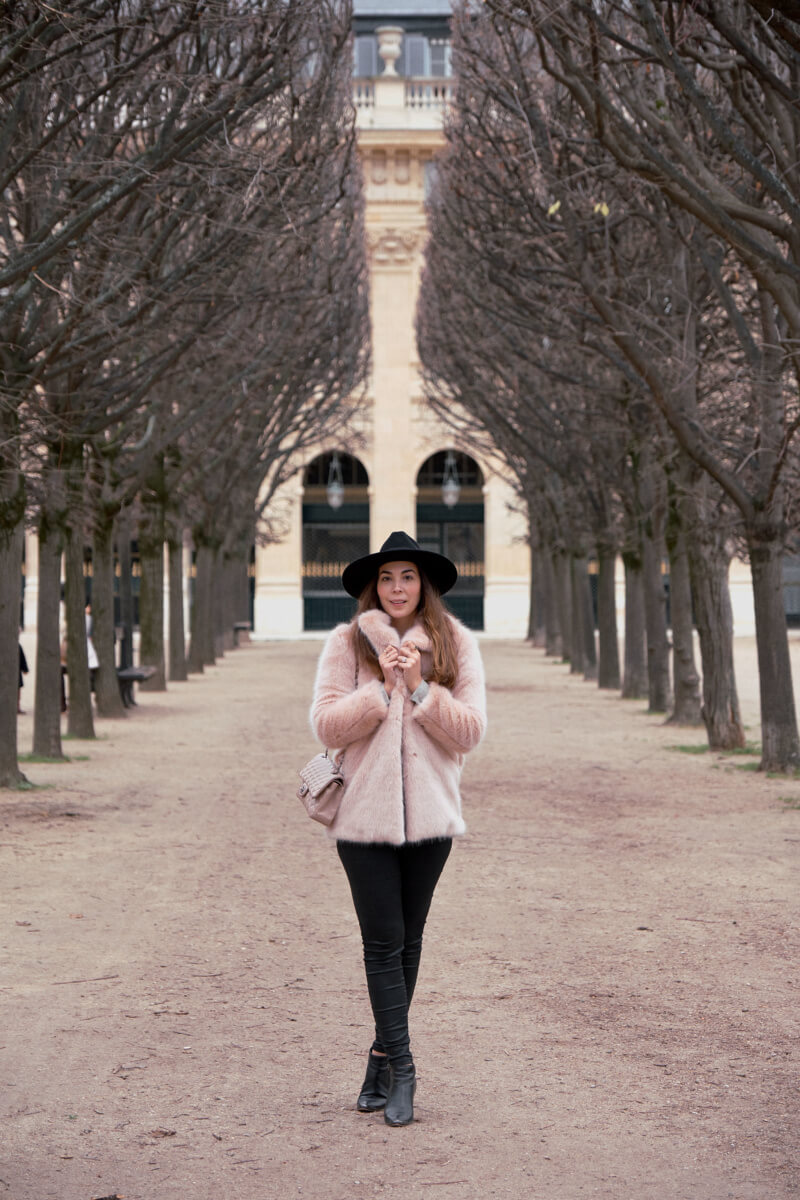 But back to the jacket! Weeks ago I wrote about wearing bolder clothes, and though this light blush is my favorite color, it still felt like a bold choice because of the outrageous texture. I was worried at first about wearing it, but after walking around all day, I felt lively and more myself. I'm a lot more like a muppet in person, and I find excessive joy in the furry softness of lux fabrics, so it's not so big a stretch that I'd want to wear a jacket that is both a costume and a security blanket in one!
But whatever you're wearing, and no matter the weather, it's always a good day when you find yourself at the Palais-Royal!
Nearly everything I've got on is sold out, but check out my picks below for very similar items! And to view my engagement photos from the Palais-Royal, click here!