A few weeks back, Jon and I went camping in Maine's Acadia National Park – a beautiful, coastal region with rocky outcrops, misty mornings, and gorgeous fall colors. I was excited for the trip, and agreed to sleep in a tent for three nights, on one condition: we must take a canoe ride!
The National Park actually has its own boat rental off of Long Pond, with everything from kayaks, to paddle boats, but as the canoe was a classic choice for a camping trip, I went with that. Together we carried the dark green shell into the water, scrambled inside and pushed off into Acadia's biggest lake.
Paddling through reeds, shallow shores and submerged rocks, we talked about news, stories we read, and submarines. It was calm, peaceful, and carefree. After a while of rowing, I thought it'd be fun to stop and have lunch on a little remote peninsula. We pulled up at a big flat rock that seemed perfect for making landfall and I dragged our boat in to save Jon's shoes from getting wet. Cheese, crackers, and candied nuts tasted so delicious after more than an hour in the sun!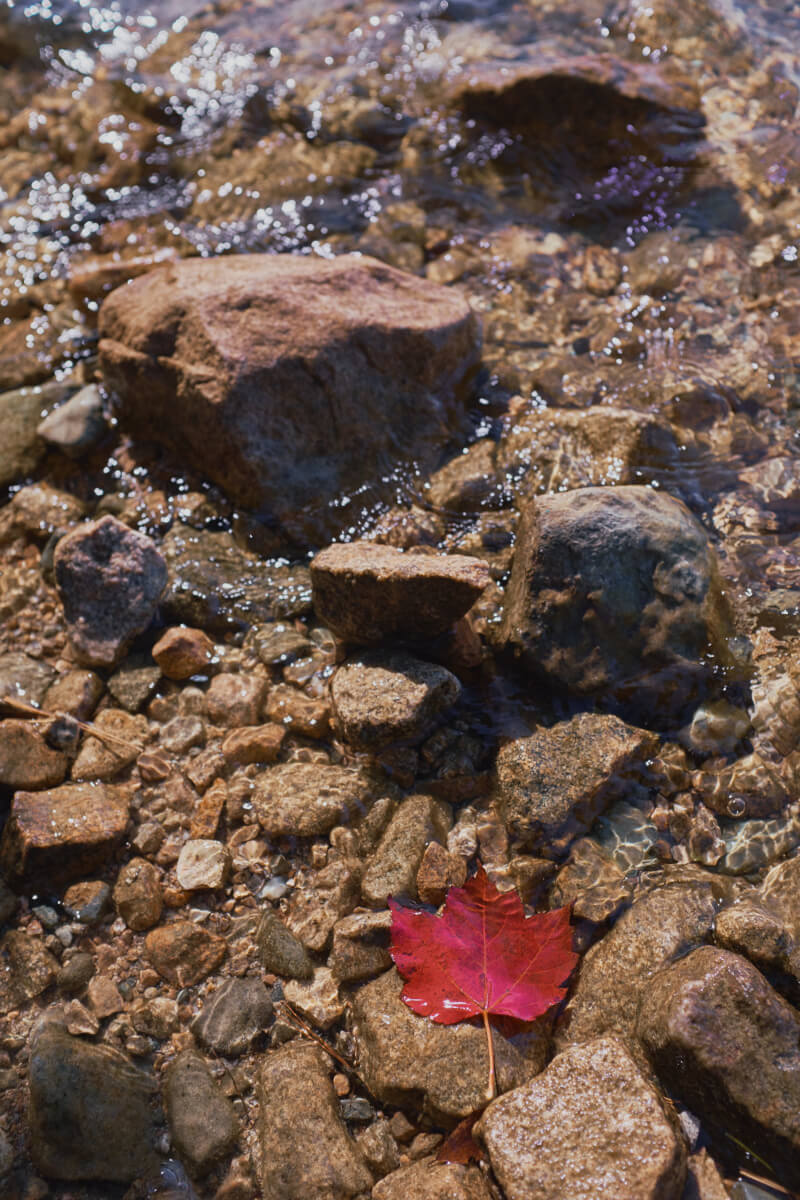 Long Pond was correctly named – it took a looong time to row back against the wind and current. It was taking forever, and I also couldn't stop laughing because years as a rower left me confused about which way I was paddling (traditional crew is essentially done backwards). It was hard to overcome my training, while not cracking up from our lack of sync. I run a tight ship and Jon was not holding up on the steering end, so we basically paddled in a zig zag pattern until we reached the dock.
As the afternoon sun beat down, we worked up a sweat, and I recognized that I dressed well in layers. The Wellies allowed me to hop out first on shore to drag us in, while a down shell helped line the utility jacket when the wind whipped off the pond. But my real love, was this little Pendleton bandana I picked up for the trip. It kept my neck warm when I was chilly, and when I started to sweat, it absorbed any moisture. Plus it gave me some summer-camp-style, which is always fun. My hat nearly flew off a few times, but I would have definitely gotten sunburned, as Jon did, had I not had it on!
It was a great time, and my shoulders felt the burn for a few days! I think I've filled my canoeing quota for quite a while.
I'll be sharing a few stories from our trip to Maine, so stay tuned for more! To learn about Acadia, check out the National Park's website. And if you want to see another camping trip, read about my visit to Chaco Culture National Park. Have you ever gone canoeing? Share your trip in the comments below!
Outfit Details: J.Crew Jacket, Mountain Hardware Down Shell, Janessa Leone Fedora, Pendleton Bandana, Hunter Boots, Current/Elliot Jeans, LNA Tee