Our trip to Colorado was plagued with hazy skies from summer fires, and extreme bouts of heat, but we didn't let it stop us from touring the whole state. From Boulder to Telluride, and Denver through the Rockies, I was most surprised by what we found in the south-east! One of my favorite parts of the trip was the camping we did at the Great Sand Dunes National Park, a vast desert landscape dumped between the mountains and plains. The park contains the tallest dunes in North America, and the whole area spans a massive footprint of 30 square miles!
The distances are significant in this part of Colorado, so as you approach the dunes, they look like nothing much…that is until you try to climb them.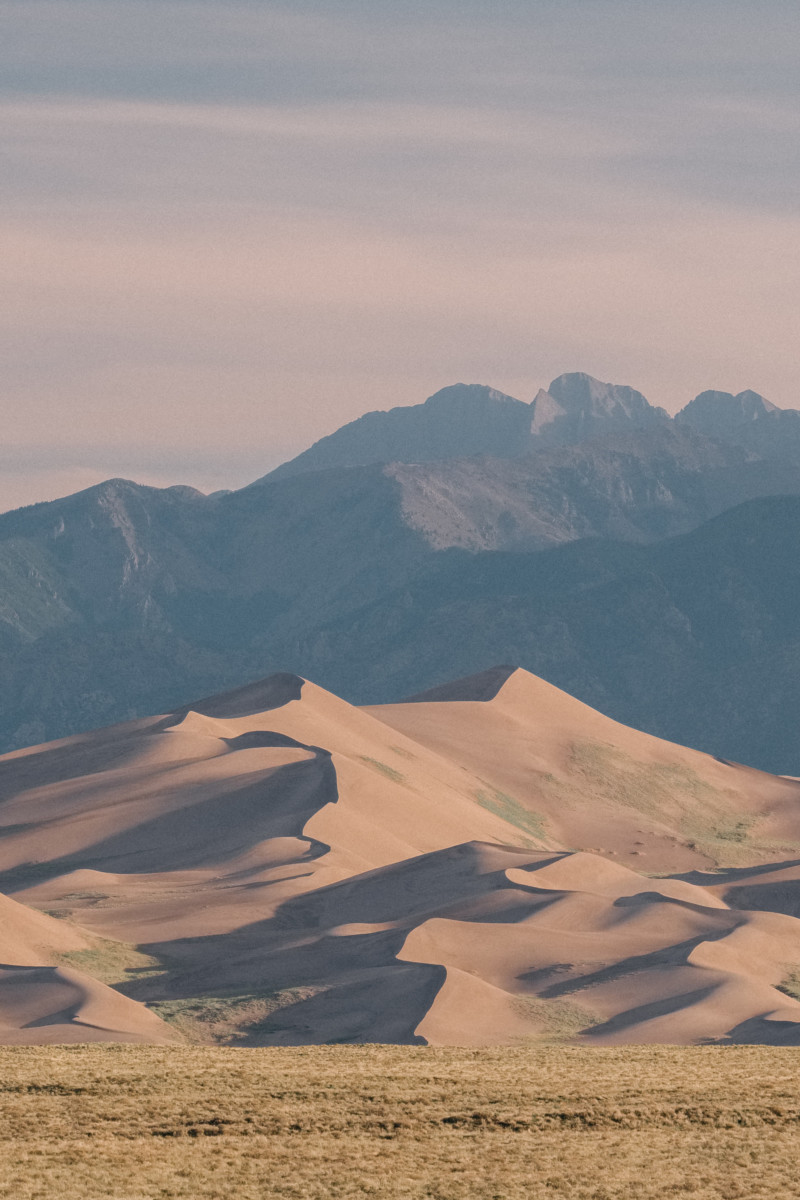 We managed to squeeze in two nights at the National Park campground during the heavy tourist season. The weather was intense, from dry heat to lightning storms across the vast plains, but we didn't let it stop us from exploring the dunes on our one full day. When Jon suggested we climb up, I was pretty reserved. I tend to get heat stroke and already had suffered from minor altitude poisoning when we first arrived in the state. But he assured me we were well equipped, and boy, was he right! From sunscreen to sun umbrellas, we were probably the most prepared people on that desolate landscape.
When we left the car, decked in our lightest, most protective hiking gear, it was hot. So hot, that within 20 feet of the car I couldn't believe we were venturing out. It was just after 4 p.m. and the sun was still high, but we wanted to make it to the top for the nice light of sunset. From the parking lot, the dunes looked huge and far away (similar to the photo above), passed the dried up creek bed where flat sand tapered delicately around the dunes' mass. It's one thing to climb 700 feet on the hard ground, but it's quite another to do it on sand, in the extreme heat.
About 20 minutes into the hike, we started going up the dunes – small ones at first. If you walk along the crest, it can be a little easier, so we stuck to winding our own little path along the sand.
It. Was. Hard.
Not too long in I got pretty woozy, so we went slow and stopped to have a drink of water every 10-15 minutes. The sand was also very different in places. Some dunes were hard and compressed, so walking along them seemed natural. Other spots were loose and soft, and your feet sunk in with each step. Most of the hike was like walking two steps for every one.
Finally, after what seemed like an endless hike up, we arrived at the top of the largest dunes to strong winds in our face. It took two hours. The views, though, were incredible and I was energized by the unique landscape. We felt like true adventurers!
We watched as people climbed the highest dune, Star Dune, in the distance. Others, crazily enough, carried wooden surfboards to sled down the steep sand. Everywhere people were having fun and enjoying this unique landscape.
If you're thinking about making a trip to the Great Sand Dunes National Park, here's what I'd recommend bringing along with you to make sure your hike is as comfortable as possible. This list is for summer but is useful for a visit during the rest of the year too.
What We Brought to Endure the Heat:
Breathable, Sunproof Clothing
I wore this shirt, which is rated at UPF 40 and a favorite among long-distance backpackers. It has vents, is airy and moisture wicking and kept me from getting any kind of sunburn – which combined with the high altitude would have happened pretty quickly on unprotected skin. I also wore light hiking pants in a size big enough to sort of hang off of me and allow air to circulate. The clothes don't look sexy, but they work. And you'd be surprised how many people wore jeans climbing up the dunes. Talk about sweaty crotch syndrome!
Proper Shoes
My boots were a bit overkill as they're waterproof and rather heavy, but they were comfortable. Jon wore gaiters over his shoes.
Food & Water
Seems obvious, but figure out how long you're going to be walking out on the dunes. If you're planning to go higher up, bring enough water for there and back, and bring enough snacks to give you a boost if you get tired.
Sunscreen
Again, don't scrimp. It was necessary to keep my hands and face from burning. And there's still considerable reflection from the sand itself.
Trekking Poles with Snow Baskets
We each had one of these to keep us balanced as we climbed up. The little attachment at the base kept the pole from sinking in and gave us a bit more support and stability on the climb up.
Hat & Bandana
My hat was a little too warm, but it was my widest brim, and I love my Pendleton bandanas. For the climb, I wet it and put it around my neck to help cool my back. But as we climbed to the top of the dunes, it was windy, and sand was flying in my face and into my eyes. It was essential for covering my mouth and nose.
Sunbrella
I had never heard of one of these things before, but it lowered the temperature of our hike by 10-15 degrees.
Chair
I was exhausted at the top, so when Jon went off to explore, I set up my little foldable chair, covered myself with the sun umbrella, and enjoyed the view. I probably could have sat like that for hours.
Monocular
Not really necessary, but it allows you to see into the distance if you want to go to a particular spot or see what's happening on the horizon.
Emergency Beacon
I made Jon get a Garmin InReach for his solo hikes, but it's come along with us whenever we're out in the wilderness. The beacon is connected via satellite and sends your location to family members along with emergency teams if activated. Basically, a helicopter will show up and rescue you wherever you are!
Jon, of course, had his camera, and a couple of other standard things in his pack (like a first aid kit, knife, etc), but as you're not spending any length of time at the top of the dunes, you don't need much except the stuff that gets you up there.
And, by the way, I am utterly terrified of heights, but the thought of walking on sand made everything seem safer. I could not have walked along the crest of any similar cliff sides, but the dunes were soft and friendly looking. Although when the sand hits you in the face, it was not a very pleasant experience (hence the bandana)!
We descended from the dunes just as the sun began going down over the distant hills. Things cooled off and more visitors took the opportunity to enjoy the sand. Families with children, couples, Instagramming gals, and teens all played along the dunes nearest to the parking lot. When we got back to our car, Jon and I judged who had more sand dump out of their shoes (it was me), and I drank an entire red Gatorade as we headed back to our campground.
I was sad as we left the dunes, but I hope to someday return to this glorious park. It really was spectacular!
Have you even climbed big sand dunes? Share with me in the comments below! And to see more from Colorado, check out this, this, and this post. For quick info and to read more about Great Sand Dunes National Park, visit the park website here!