We've talked about how much I love hot springs. So much so that I'm willing to travel near and far for a dip in the warm mineral water. Or in this case, I'm eager to visit them again years later to recapture that same luxurious feeling of soaking in a steaming, natural pool in stunning surroundings.
For Dunton Hot Springs, the love affair started three years ago when we stayed in a "glamping" tent for a single night in their River Camp. It was magical. This time we decided to give one of the cabins a shot, and we were not disappointed. From the magnificent food to the exceptionally attentive (and kind) staff, our second visit to Dunton was just as unique as the first. And this time it involved an outdoor shower and three days of lazing about in a state of relaxed bliss.
So, where do I even begin with this hidden gem?
Let's start with the setting.
Tucked away in the foothills of Mt. Wilson near Telluride, Colorado, this picturesque valley was once the home of an old mining village. The hotel was built on the remains of this ghost town, and it's merely a bonus that there are hot springs. (Why any cowboys would choose to leave, I haven't the faintest idea!) The valley is abundant with cattle and horses, grazing free along the winding river. It's so unique, even famed Western-lover Ralph Lauren has a place down the road (I saw it too! Well, the fence anyway).
And now for my personal nirvana…
The hot springs are wonderfully steamy, and you have many options for taking a dip. Enjoy the glorious bath house (my favorite) to have a peaceful soak in secluded bliss. With showers, a hammock, seating areas to cozy up with a book, and a rustic fireplace, this old cabin is where I preferred to spend most of my relaxation time. You can also sit outside in a clay-rimmed pool with views of the nearby mountains and the sounds of the birds chirping in the pines. Or, take a plunge at the source of the springs, a tiny cave that boasts the hottest waters on the property. Either way, the small, natural dose of dissolved lithium will have you feeling calm in no time.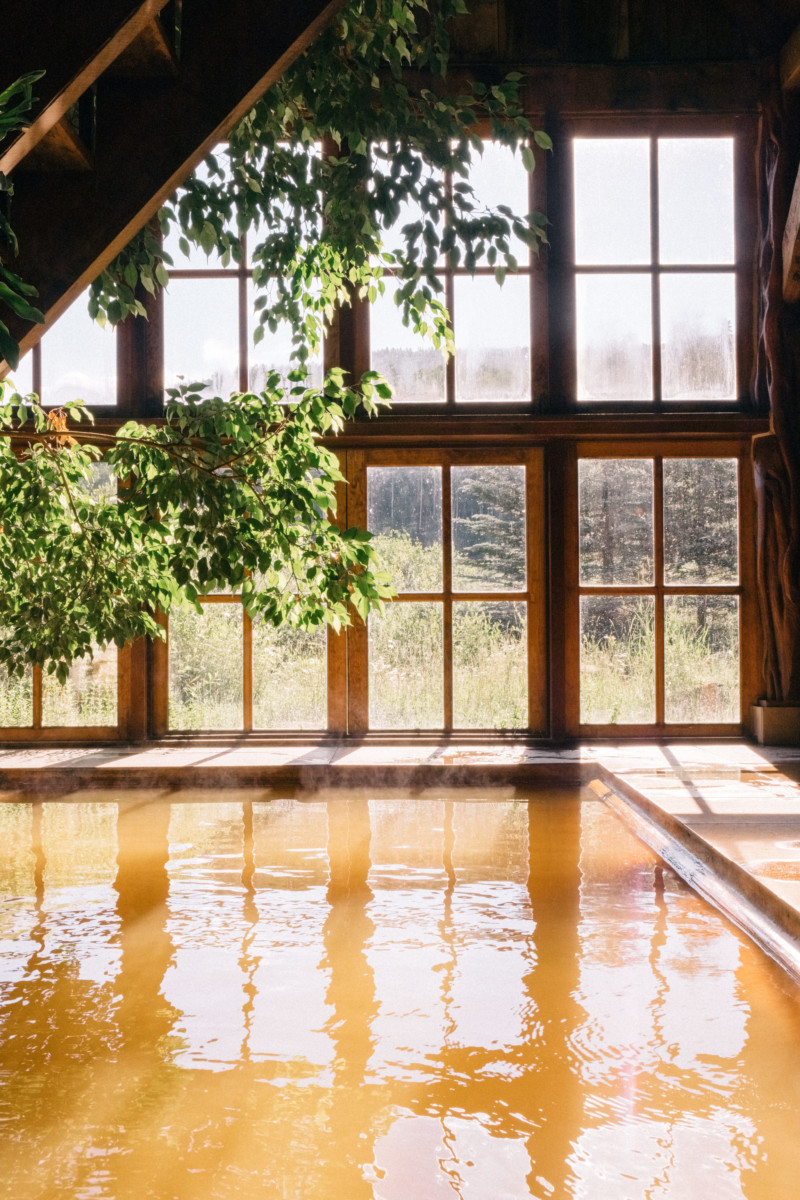 When it comes to atmosphere, Dunton has most hotels beat. The decor makes you feel thrown back in time, with snowshoes adorning the walls of cabins and a rusting truck parked in a field of daisies. If the Old West is what they're going for, they pretty much hit the nail on the head. Have a private dinner in a teepee, enjoy the modern art that the owners have hand-picked for the hotel, and just relish the thought that you're standing where old prospectors spent time, toiling away under the rocks.
And to top it off, the best part of the trip was the people we met here. Mostly from various parts of Colorado, the other guests were not only kind but fun and exciting. We shared stories and interests with traveling couples and had some major laughs with a bachelorette party that took me under their wing. Meanwhile, the manager and staff members were accommodating and delightfully knowledgeable – everything from the nearby trails to laundry and food issues, they had me covered.
Hopefully, it won't be in another three years before I revisit this gorgeous place. And you shouldn't need too much convincing to make a trip out for a special occasion or a luxury retreat. But most of all, if you've got a hankering for the Old West, get thee to Dunton.
What do you think about Dunton Hot Springs? Would you want to go there for a visit? Share with me in the comments below! And thanks to the hotel for a wonderful stay!
Outfit Details: Gal Meets Glam Dress, Janessa Leone Hat, J.Crew Boots (old, similar here)