Welp! It looks like we've gone straight from spring to summer as I'm practically melting while I sit here typing this. For some reason our office is the hottest room in our apartment even with the air conditioning on (you know warm bodies, hot computers, and all of that), so I've got to come up with a better plan for working in the heat. Also for staying cool! With so many years living in Northern California, I got used to the misty breeze, chilly nights, and literally-perfect-temperature days. You didn't even need air conditioning! Just a fan on the two hot days a year. Now, on the east coast, I don't know what to do when it's sweltering other than lay in a paddling pool with my butt half-submerged. When I said I wanted it to get warmer, I was hoping for a temperature well under ninety degrees.
And guys! I have been SO out of control with my romance novel reading. I've burned through 4 books in the last six days, and I've got to get a handle on it. There's no way it's healthy to be reading that furiously or to be turned on like a lightbulb behind a steamy book. Do you think there's a clinic for someone like me? Romantics Anonymous, or some such thing? I'm definitely addicted to the feelings of first love, but when should I start seeking treatment?! The good news is I took out this book from the library as well, so I'll get to reading it this weekend (thanks again to my reader for the recommendation!). I had to shyly walk into the young adult room at the library, past all the boisterous teens hanging out after school, and be the weird grown-up looking for books in their section. Luckily I found it right away, but given my usual catalog abilities, I should have spent an hour in that room searching for call numbers. John Green wrote The Fault in Our Stars, which I haven't read, but as that book was such a hit, I'm sure this one will be good (minus all the tears).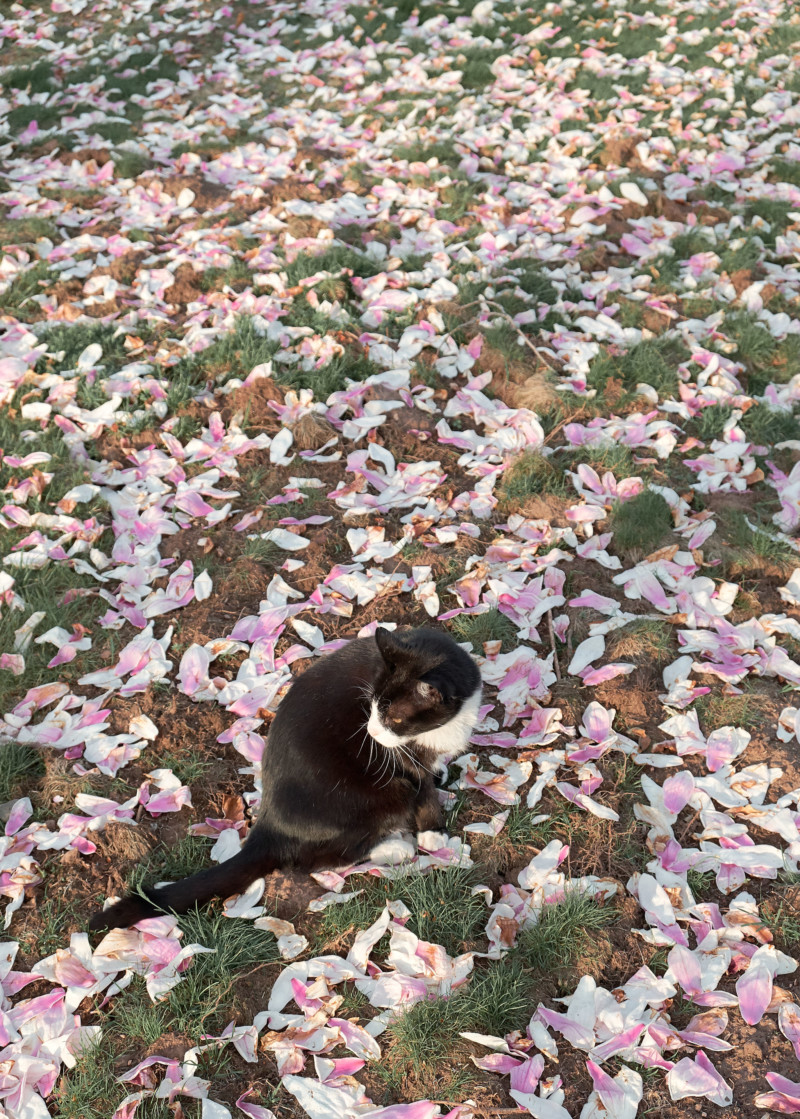 Twice this week Jon and I lit our fire pit, and I sat outside by the warm glow. We found this Duraflame firewood, which produces low quantities of smoke and keeps me from worrying about sparks getting out of control. Is anyone else's cat utterly terrified of fire? Poor Ernie won't go near it, opting to hide behind our car and creep on us with an unhappy look. And while you're enjoying this post, I will be in the Pine Barrens, doing an eight-mile hike, which should be fun! I never regret being outside, and hopefully, more temperate weather will make it easy to endure the long walks Jon wants us to try.
In other news, there have been some super cute new products out this week that I had to share! I'm in love with this Rifle Paper Co. apron by Hedley & Bennett; Baggu just released two styles of light-weight, collapsible umbrellas; and Wit & Delight came out with the cutest Desktop Notepad. Santa? Are you there? Thank you in advance!
I also loved this article about why Millennial Pink won't go away. Thank goodness it's staying because it's my favorite color, and if it went out of style I'd have to toss half my wardrobe! I also can't wait to try this at home facial steam, which seems quite a step above my Vicks VapoRub treatment for stuffy sinuses. The only trouble is where can you find bits of calendula lying around? And speaking of fanciful herbs, this article hit a chord with me on the rise of spirituality in an increasingly skeptical world. Tarot cards, I'm coming for you!
So with a little spiritual hullabaloo – ALAKAZAM! – I'm sending a wand-ful of enchanting well wishes your way for the weekend. And let's also hope it cools off just a smidge!
What are your plans for the weekend? And I'd love to hear your recommendations for articles, books, or anything else you've been enjoying lately – be sure to share with me in the comments!