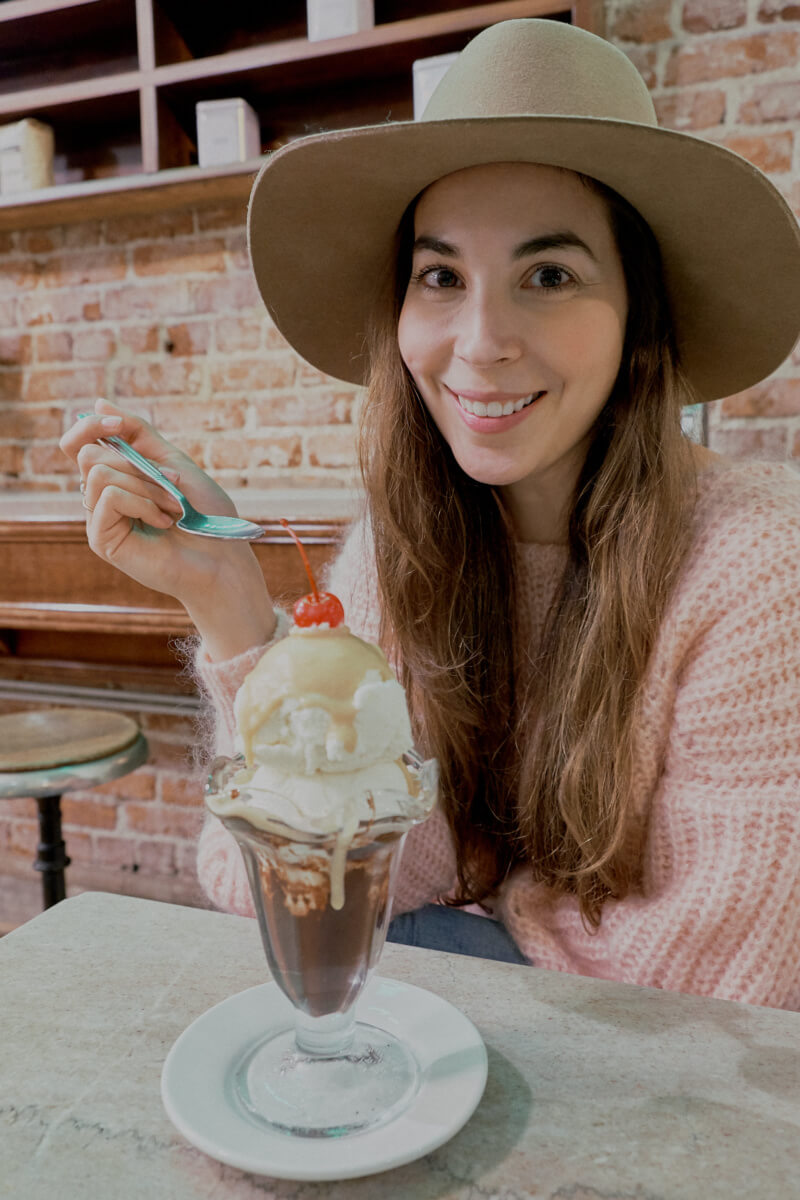 When you're on the road, one rest stop tends to be as good as the next one. McDonald's, Starbucks, 7-11 – it's all the same, and it's what we've all come to expect when traveling by car through most of the United States. While I have fond memories of Super Sized Sprites from here to Boston, with a bathroom break at a sketchy gas station with a toilet in a shed, the conditions of stopping along the highway have vastly improved in the last few years.
As with our last road trip from California, we were pleasantly surprised by some of the excellent places we stopped along the way. Here are a few of my picks if you're ever staying or just passing through!
KNOXVILLE
Hands down Knoxville, Tennessee blew me away. I'm not entirely sure what I was expecting to come across there – mostly a burger joint or a mediocre pizza place – but as we rolled into the city at 8 p.m. we headed straight for a restaurant I found on Yelp. Jon and I have a system that seems to work perfectly when traveling: he finds spots that meet a certain standard, and I go through and evaluate for ingredients and presentation. We both like simple food, but for me, the key to a good restaurant is the quality of the produce (down to the bit of parsley garnish). I'm also a bit of a nut when it comes to picking hotels, so when Jon found one nestled in the woods, I was less than sure. It turns out I'd recommend all our picks again!
This Japanese restaurant in the middle of downtown was a risk for Jon because of the limited menu, but it was delicious. Packed to the brim, we chose to sit at the bar and ordered Dan Dan noodles – cold dishes that I was sure would be just okay. I ordered the Peanut-Sesame Noodles, which were sprinkled with "pork candy," a delicious piggy crumble that I literally picked off the nearly clean bowl. Dinner was fabulous – 10 out of 10. My only gripe was that the service wasn't very friendly.
Located at 416 West Clinch Avenue, in Knoxville, Tennessee
Give me a soda pop shop anywhere, and I will come seeking a hot fudge sundae! I love the old-timey look and outfits, and this one hit all the marks! Friendly, energized staff took our order, and the oversized wooden pharmacy bar added a fantastic atmosphere. Also, they had peanut butter sauce for my hot fudge (though it was real, and not the cheap kind I favor).
Find them at The Phoenix Building at 418 South Gay Street in Knoxville
After a belly full of food we headed to this little retreat – a hotel often used for weddings and small conferences. I was blown away by the style, gardens, and price of this place. At under $200 a night, we were really pleased with our stay. With breakfast included, Jon nearly ate them out of bacon!
Located at 1406 Wilkinson Pike, Maryville, Tennessee
BIRMINGHAM
As we drove from Knoxville to New Orleans, Birmingham was the most prominent city along the way, so we thought it best to snag a quick bite and continue on the rest of our 7-hour drive for the day. Well, leave it to me to find a chic coffee shop anywhere I go (it's apparently a passion of mine). This delicious cafe is not inexpensive, but it was delicious! I particularly loved their Pistachio Rose Shortbread, which tasted like surgery flower heaven. The granola was also Instagramably beautiful with edible flowers sprinkled on top. As we left, we admired the little corner of this neighborhood, which seemed to be a hipster oasis deserted in an area that had seen much better days.
Have a coffee with them at 5530 1st Avenue, South Birmingham, Alabama
CHARLESTON
The drive from New Orleans to Charleston was HARD! 12 hours, with barely much stopping as we swung east through Florida and dead North to South Carolina. Be we had one goal in mind: eating at the Obstinate Daughter. Our favorite dinner on our last road trip, we hightailed it to arrive before closing (we did), and we ordered our hearts out. CONFESSION: We ate here twice…for dinner…over two nights…it was that good! We were only planning to stay one night, but a winter storm was swooping in, so we stayed an extra day, slept in late, and wandered the beautiful city. If you're lucky enough to eat here, be sure to order the Farro Piccolo! It was both our favorite appetizer!
2063 Middle Street, Sullivan's Island, South Carolina
This beautiful mid-century modern hotel wasn't quite what I expected (I thought it wouldn't be so big), but I loved it none the less. A converted Federal building, The Dewberry had all the brass signage that you'd hope to find in a preserved historical site. Immaculately decorated, they had an extra cozy king-size bed that left me on cloud 9!
Stay or have cocktails at their fabulous & bustling bar on 334 Meeting Street in Charleston, South Carolina
I loved this teeny coffee shop! As we swung outta town, it was a must stop for lattes and croissants for the road. Can you tell I can never get enough of cafes?
Located at 70.5 Beaufain Street in Charleston, South Carolina
So there you have it – some of my wonderful and surprising finds from the road to New Orleans and back! Jon is hoping to do some hiking around the Blue Ridge Mountains, so I think there will be another stay in Knoxville in our near future. Maybe next time I can visit Dollywood, which is Dolly Parton's amusement park (I mean, how could I not?). And if you're passing through any of the cities I've mentioned, each of these spots is absolutely worth a visit.
Of course, there's always the option to stop at a 24-hour Waffle House and drive all through the night. But I think I prefer my way!
Have you ever discovered a great place to eat or stay unexpectedly on a road trip? Share with me in the comments below!