I've never really been someone who dressed up for travel. As a lady with terrible motion sickness, I always prioritize comfort over looking even remotely attractive, and the goal when getting inside a moving vehicle was usually how not to lose my lunch. At the same time, I hate looking frumpy when checking into hotels because that's the first impression you set for the staff. While technically I still don't "dress up," these days I have simple uniforms that work for me, keep me dressed nicely in a pinch, and are super comfortable. This look is one of them!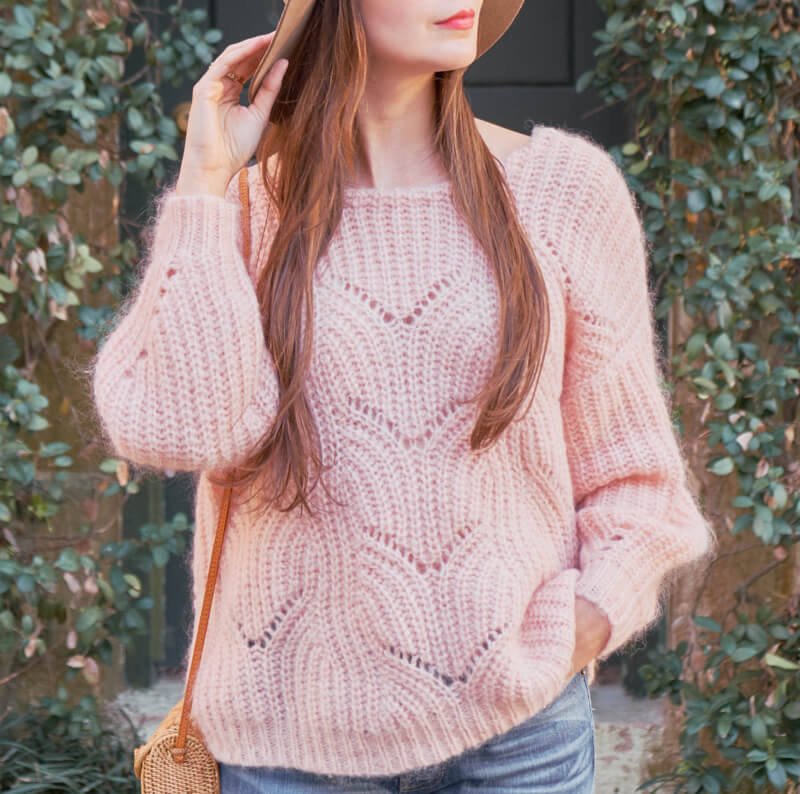 When we realized our road trip to New Orleans was going to be NINETEEN hours, instead of the twelve we initially thought (big mistake there!), we adjusted our schedule with extra stops and hotels. I was trying to minimize my packing and had to consider how to be comfortable for the long drives. Loose clothing is a no-brainer, and this Sézane sweater in an open weave is deliciously breezy, but also warm enough if there's a chill. As we transitioned from deep winter to 70 degrees and humid in New Orleans, I wanted my outfit to work in both types of weather, that way I could stuff my suitcase full of warm weather options. These ripped boyfriend jeans also fit the same bill, and when we were sitting in our Mini Cooper for long hours, I really appreciated the extra room around my legs and waistband.
Dolce Vita booties are always my favorite go-to shoes for travel because they're comfortable. I wore these most of the drive; then, when it was my turn at the wheel, I switched to these Nike sneakers. These days I'm always packing a hat (or three), and I love this floppy style from Janessa Leone which made my hair look much better than it was after an eleven-hour drive to Knoxville, Tennessee. I threw this little Bembien bag into this Baggu backpack and used that out day and night.
A few times we were caught checking into a hotel with just enough time to grab dinner. In the case of our arrival in Charleston, we drove directly to the restaurant, and it definitely made it easy to waltz into an upscale eatery when I wasn't dressed in sneakers and sweats.
Except for our last leg of the drive (where I opted for a simple NYC sweatshirt), I wore this outfit every section of our road trip – three days altogether. T'was the most comfortable I've been on a road trip yet!
What do you like to wear when you travel? Share with me in the comments! And be sure to check out some of my similar style picks below!